Reviews & References
You went above and beyond for me I do appreciate.

~ Confidenital Client regarding surveillance
The Florida insurance defense law firm I work for hired Investigative Tactics to locate a party in an active litigation matter. David at Investigative Tactics was courteous, extremely knowledgeable, and thorough. We will definitely be using him again and the insurance carrier has added Investigative Tactics to our approved list of vendors. Fast, efficient and reasonably priced -- you can't beat that!

~ Vernell Toure
Great service for an exceptional price. Very professional and discrete.

~ Dennis DiSarro
Courteous, fast, efficient and thorough service and for a good price. Thank you very much. I will definitely use you again.

~ Frank Albergo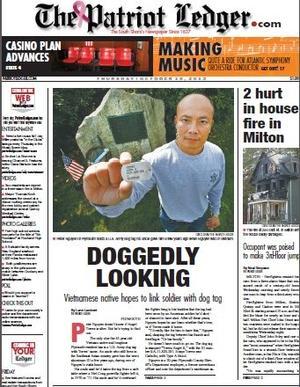 ... But a private investigator who formerly worked with Nguyen said the 11 in the ID number suggests that Torres was likely from one of the New England states.
Former Plymouth County Corrections Officer David Rich, now a Florida Investigator, said Nguyen asked him for help. Rich said information from veterans and POW-MIA organizations indicates that the Torres dog tag was issued no later than 1967...
"Velta Hanson hired an investigator, who discovered he'd been paying for expensive lunches with Teti..."

"That month, she fled after shutting off her electricity, closing her hurricane shutters and forwarding her mail to Sykesville, Md., where a private investigator has since located her."

*Public Court records, and cited with permision
I have had the opporunity of working with David Rich on several investigations over the past few years. I am a criminal lawyer whose practice is limited to representing both victims of fraud as well as individuals who are targeted by the government of committing fraud.


Mr. Rich has recently been involved with me in two very complex investigations in which he played a vital role. He displayed incredible computer-related skills as well as extensive knowledge of mulitple investigative techniques which have led to very sucessfull completions of those investigations;

~ Yale T. Freeman, Esq.
Thank you again for your outstanding work throughout this matter, and especially your work leading up to and testifying at last week's hearing. We obtained a very favorable result for the client, largely thanks to your efforts. Your professionalism will not be forgotten, either by me, or by the client.

~ Matt Jackson, Esq
I have used Mr. Rich's services for a number of different cases and on behalf of a number of different clients. Both me and my clients have always been very impressed with Mr. Rich's services. Mr. Rich has always been prompt, professional and up to every task we have asked of him.


~ ReubenA. Doupe, Esq
I have know and worked with David frequently over the years. He has performed all types of investigations for me, from finding people who are difficult to serve to conducting surveillance for use in Court and in many other capacities. Mr. Rich's work is thourough, detailed and acurate. I would not hesitate to recommend him...


~ Tamara Lynne Nicola, Esq
I have known and professionally dealt with Mr. Rich for over three years. In that time, he and his staff have been very helpful to my firm regarding the service of process and other legal papers. Mr. Rich has always been exceptionally helpful, accommodating and professional in his dealings with me. I know Mr. Rich to be a person of good standing and high integrity in this community. I would recommend him highly to any professional group of legal investigators.


~ Robert W. McClure, Esq